For the Difference You Can See, It's not just OUR name
Biohazard Cleanup for COVID-19
Dririte® is here to assist in the prevention and cleanup of Corona Virus COVID-19
Our Restoration cleanup crew is available 24/7 for both commercial and residential properties.
DRIRITE Emergency Service
Water Damage Repair Done Rite
When you're facing water damage, you're gonna want the water out as quickly as possible. Don't rely on the novices. Depend instead on the water repair experts at DRIRITE® for our top of the line water extraction services. Our team of specially trained and IICRC certified water damage technicians will arrive promptly to call, diagnose the severity and probable causes of your water damage, and get it taken care of. 24 hour a day, 7 days a week, we've got your back. Don't suffer the effects of water damage— get ALL the water out!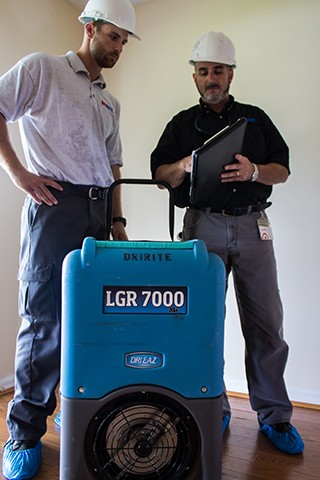 24 Hour Emergency Structural Drying Support



You can never be sure when a pipe will break, or a leak will bleed water into the structure of your home.
One thing you can be sure of is that Dririte is your best defense. With our 24/7 emergency services, you can rely on Dririte® to respond immediately, and arrive promptly to ensure the best water damage repair.
Dririte specializes in structural drying. Quickly returning the structure back to its pre-loss condition. Allowing your staff to stay on schedule. A properly dried structure is a healthy structure, improper drying efforts can result in secondary damages such as water staining, odors, mold growth, and compromised structural integrity.
Dririte® guarantees your drying projects against secondary damages. Our project managers will monitor your project daily, utilizing our infrared imaging camera as well as other tools to ensure accuracy and efficiency during the drying process.
Providing accurate documentation regarding your project is what we do best, moisture readings, digital photos, infrared images, a complete written report of all activities is a standard. Providing you a level of confidence that only Dririte® can give with water damage repair and much more.
We understand budgets and job costs, water damage doesn't have to impact your bottom line. When a water issue occurs it is usually a direct result of poor workmanship or failed materials. Someone should be held accountable for your damages. Our documentation depicts cause and origin, which will help you defend and enforce charge backs to your subcontractors or suppliers.

Tired of trying to figure out where the water is coming from? Infrared Thermography Moisture Detection— specifically the ThermalScan IRC-2000™— can be used on nearly any building material including roofing, drywall, floor covering, exterior finishes, installation and more. The ThermalScan IRC-2000's™ large display produces an incredibly clear gray scale image to facilitate accurate scanning – a method preferred by professionals. By using the ThermalScan IRC-2000™ we can better complete the job, with better results.
Using state of the art thermal imaging, locating moisture non-destructively has never been easier – or faster. Simply turn on the ThermalScan IRC-2000™ and begin scanning walls, floors, roofs, exterior finishes and more. The temperature difference created by the presence of moisture will appear differently than that of the surrounding area.
The Incredible sensitivity of the ThermalScan IRC-2000™ makes water saturated roof insulation and leaks in slabs stand out. Its large display allows the user to easily find the questionable sections, then snap up to 150 high quality infrared images for easy documentation.
Just one of many services provided by the restorative drying industry leader. Call our offices today, let's discuss your needs and you too will see why we are quickly becoming the most trusted name in the home builders industry.
"Industry standards recommend that you have your air ducts inspected every 2 years for cleanliness, and have them cleaned, on average, every 5-7 years."
Breathe better with regular air duct cleanings!
But how regular is regular? On average, it's best to have your ducts inspected every two years, and a scheduled cleaning every 5-7 years.
Of course, this will vary depending upon the conditions in your home. By having your air ducts cleaned regularly, you'll help improve the indoor air quality in your home, and enhance the efficiency of your heating/cooling system, which may lead to reduced energy bills. Most homeowners have no idea what goes on inside their home's air ducts. But the fact is, they can become contaminated with years of accumulated dirt, debris and allergens like mold, pollen, dust, and pet dander.
Our courteous, insured, professionally trained technicians use the process that follows National Air Duct Cleaners Association guidelines. We thoroughly inspect the air duct system before any work is done. DRIRITE technicians clean all registers/grilles, and the inside of each return and supply opening using a very powerful vacuum along with specialized air tools. We use the vacuum and an assortment of tools to get into every nook and cranny of the system, thoroughly cleaning every air duct. We zone off areas as needed to ensure that the entire system is clean.
All dirt & debris is removed from your ducts into our HEPA filtered containment system.
Mold Remediation Handled Promptly and Professionally
Undetected mold in your home can lead to a variety of negative health issues for you and your family. It can cause difficulties breathing and aggravate already vulnerable conditions such as asthma. Mold usually grows and builds up after storm or water damage to your home's structure, carpeting, roof, etc. that went unnoticed for weeks or months on end. If you start to notice odd smells around the house or changes in your air quality, you may need mold remediation, handled promptly and professionally.
Successful remediation starts with project management and communication. Our certified remediation staff starts each day attending our current projects briefing. During this time our project managers, inspectors and lead remediation techs discuss the progress and status of your projects. This affords you the opportunity to view daily comments and accurate project documentation at our password protected current projects page, available online.
We employ and practice the latest in remediation technology. Our trained knowledgeable staff follows our strict in-house Remediation Best Practices Policy.
About Us
You never know how hard a storm is gonna hit, or when a pipe will burst unexpectedly. You may not realize how much debris can build up in your duct system without a routine cleaning. And you might not know you have a mold problem until you can smell it.
Whether you need emergency water damage repair services or routine inspections, Dririte® is here for you 24 hours a day, 7 days a week! For over 35 years, we've provided Orlando and the Central Florida with a comprehensive line of services designed to take care of all problems related to mold and water damage, including:
Plumbing Capabilities (cracked/burst pipes, sewer back-ups, & overflowing toilets)
Undetected mold in your home can cause all kinds of health problems. That's why our goal is to keep up the mess, keeping your home safe and family healthy. Get highly skilled, expertly trained technicians to your home to assess the damage and implement the solution, from Dririte®.
When you choose the experts at Dririte, you're choosing:
30 Minute Emergency Response, 24/7
Locally Owned and Operated Business
Insurance Approved Provider
Upfront FREE estimate available upon request
IICRC Certified, Licensed and Insured Technicians







When it comes to mold detection and water damage repair, don't compromise. Choose the best with Dririte®!
High Customer Ratings
The team at Dririte® consists of some of the best technicians in the state— but don't just take our word for it! Time and time again, our clients have enjoyed working with our team and getting their homes back good as new. We strive to provide the most accommodating customer service and are always ready to answer your questions, and help you find the service you need!
Prompt Response Times
Got an emergency? Get 30-minute response times from Dririte®! Based out of Orlando, FL we're always ready to send our team your way, because we know that disasters don't wait to happen on your time or our time. That's why our emergency services are available 24 hours a day, 7 days a week. Call our emergency line at 877-299-9585
Serving the Community
If the state of Florida is known for anything, it's our summer hurricanes and relentless heat. This high humidity and tendency for destructive storms can do a lot of damage to your home, including water damage and mold formation. That's why we're strategically located smack in the middle of state, ready to lend our expertise to any Florida home in need.
Got a question?
We've got the answer! Our goal is to make repairing your home as easy and stress-free as can be. That's why we've put together a list of some of the most common questions we're asked, so that you don't have to go hunting for the answers.
Still unsure about anything?
Give us a call! We're happy to help you figure it out!
If you're in need of emergency water damage repair services or a routine mold inspection & cleaning, give Dririte a call. For over 35 years, we have proudly served the Orlando area, always ready when you need it. Our lines are always open for your questions, comments, & concerns. Get 30-minute response times, great prices, and IICRC certified, licensed, and insured technicians ready to clean up the mess and give you your home back. Call Now!