Dririte's® Infrared Moisture Meter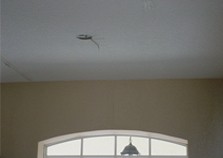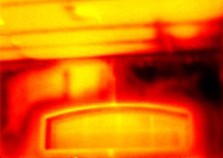 Dririte's® Infrared Thermography Moisture Detection, specifically The ThermalScan IRC-2000™ infrared moisture meter can be used on nearly any building material including roofing, drywall, floor covering, exterior finishes, installation and more. The ThermalScan IRC-2000's™ large display produces an incredibly clear gray scale image to facilitate accurate scanning – a method preferred by professionals. By using the infrared moisture meter we can better complete the job, with better results, look below to see how.
Moisture Inspections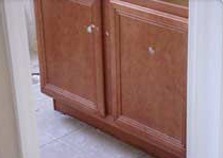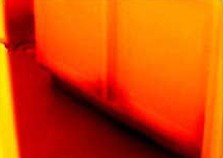 Using state of the art thermal imaging, locating moisture non-destructively has never been easier – or faster. Simply turn on the ThermalScan IRC-2000™ and begin scanning walls, floors, roofs, exterior finishes and more. The temperature difference created by the presence of moisture will appear differently than that of the surrounding area.
Roof and Slab Leaks
The Incredible sensitivity of the ThermalScan IRC-2000™ makes water saturated roof insulation and leaks in slabs stand out. Its large display allows the user to easily find the questionable sections, then snap up to 150 high quality infrared images for easy documentation.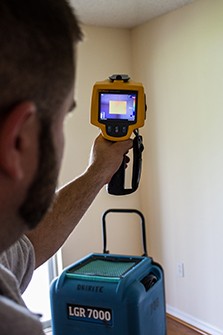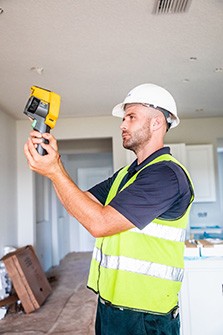 Building Envelope Inspections
The ThermalScan IRC-2000™ is perfect for the detection of missing or compressed insulation, excessive thermal bridging between walls and plates, moisture accumulation in building, materials, heat loss through windows, leaks in water pipes, damaged HV AC ducts, air leakage and more.
Monitoring
Monitoring drying curves with our ThermalScan IRC-2000™ can greatly reduce drying time. By locating problem areas, simple changes in equipment placement can be made. To reduce liability, at the completion of the job thermal images can be provided to the customer and insurance adjuster to prove the building has been properly dried.
Just one of many services provided by the restorative drying industry leader. Call our offices today, lets discuss your needs and you too will see why we are quickly becoming the most trusted name in the home builders industry.